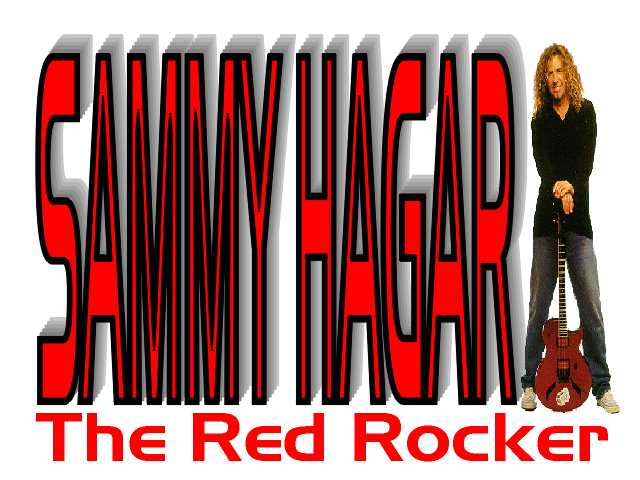 "MAS TEQUILA TOUR 1999"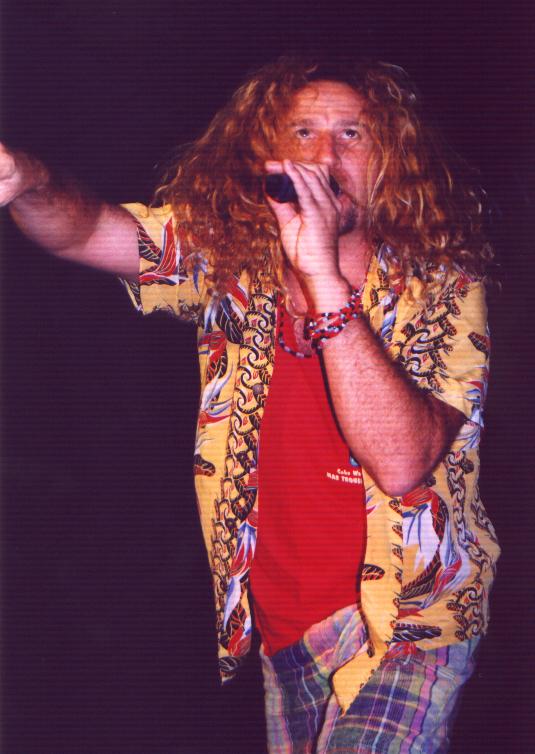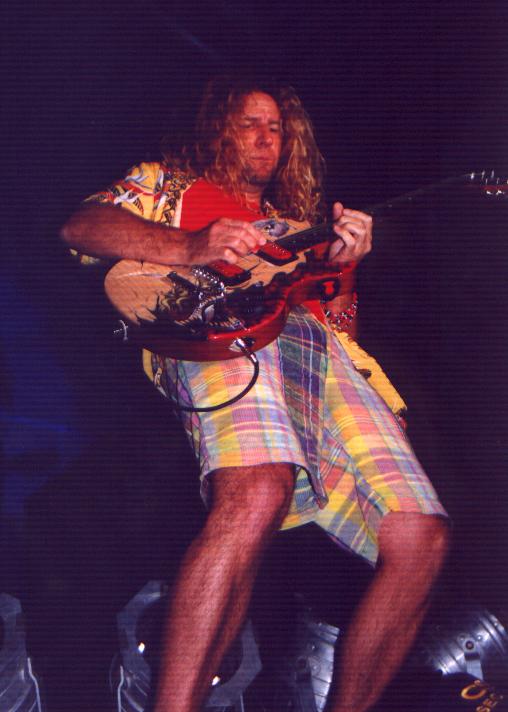 Sammy Hagar rocking on the first night of his MAS TEQUILA Tour at
Livestock 9 in Zephyrhills, Florida. The Red Rocker is also caught hanging out with
World Wide Live Publisher Bryan Lambert.
More live shots from Hagar's incredible live set during Saturday's closing festivities at
LIVESTOCK 9 The Final Chapter. What a great night for a killer set of classic and new rock and roll
from one of the all time greats. World Wide Live Assistant Editor Greg Manes gets the scoop on Sammy's
own Cabo Wabo Tequila. He told us how it was made and gave us a taste backstage before rocking
the wild Livestock 9 crowd.
EVENT: WXTB 98 Rock's LIVESTOCK 9 - The Final Chapter
PLACE: Zephyrhills, Florida
DATE: MAY 15, 1999
Sammy hagar took to the stage a half hour later than scheduled due to previous bands running longer than expected but that didn't stop the packed crowd or the Red Rocker and his band the Waboritas for that matter either. Complete with Cabo Wabo Tequila in hand (the best damn tequila i've ever tasted, and it's hand made too! Sammy told me so himself.) proceeded to prove there's "There's Only One Way To Rock." Having seen Hagar earlyer in the year during his short but sweet Hard Rock Cafe tour promoting his Cabo Wabo Tequila and new album MAS VOODOO the staff of World Wide Live couldn't wait for another chance to see the Red Rocker in person. This night will live on for some time to come. With all the classic Hagar tunes he ripped through that night like "I Can't Drive 55," "KAMA" (from 1997's MARCHING TO MARS,) THe theme song from the aptily titled movie "Heavy Metal," "Mas Tequila," "Why Can't This Be Love" (from his Van Halen days,) Suckers walk, money talks, but you can't touch my "Three Lock Box." Now that's just a few that the Red Rocker and the Waboritas played that fine night. Sammy only played an hour and a half, due to the fact that curfew had already been broken by half an hour, he told the crowd, complete in burmuda shorts and Cabo Wabo sleeveless t-shirt, "There won't be an oncore tonight." as he was passing around a half full bottle of Cabo Wabo tequila for the crowd to taste. By this time everyone was going crazy, what a great way to end a great day of rock and roll.
If you get a chance to see the Red Rocker when he is in a town near you need to do so. I promise, you won't be dissapointed. The staff of World Wide Live Online sure wasn't. We can't wait to see Sammy again.
Here are the remaining dates for the 1999 MAS TEQUILA TOUR
May 28 Dallas, TX Coca Cola Starplex On Sale Now
May 29 Oklahoma City, OK All Sports Stadium
May 30 Bonner Springs, KS Rockfest@Sandstone Amphtheatre On Sale Now
Jun 2 Milwaukee, WI Milwaukee Riverside Theatre On Sale Now
Jun 4 Cuyahoga Falls, OH Blossom Music Center On Sale Now
Jun 5 Tinley Park, IL New World Music Theatre On Sale Now
Jun 6 Auburn Hills, MI Pine Knob Music Theatre On Sale Now
Jun 8 Toledo, OH, Promenade Park/WIOT Annv. Show
Jun 11 Providence, RI The Courtyard at Big Daddy's
Jun 12 Hampton Beach, NH Hampton Beach Casino On Sale Now
Jun 13 East Boston, MA Suffolk Downs On Sale Now
Jun 15 Peoria, IL Peoria Civic Center Arena On Sale Now
Jun 16 Moline, IL The Mark Of The Quad Cities On Sale Now
Jun 18 Fort Wayne, IN Allen County War Mem Coliseum On Sale Now
Jun 19 St. Louis, MO Riverport Amphitheatre On Sale Now
Jun 20 Tulsa, OK The Brady Theater
Jun 22 Amarillo, TX Civic Center Coliseum
Jun 23 Lubbock, TX, Lubbock Municipal Coliseum
Jun 25 San Antonio, TX Sucken Garden
Jun 26 South Padre Island, TX Convention Center Arena
Jun 27 Spring, TX Cynthia Woods Mitchell Pavilion
Jun 29 El Paso, TX Abraham Chavez
Jun 30 Phoenix AZ, Blockbuster Desert Sky Pavilion
Jul 2 Universal City, CA Universal Amphitheatre On Sale Now
Jul 3 Las Vegas, NV The Joint On Sale Now
Jul 4 San Bernardino, CA Glen Helen Blockbuster On Sale Now
Jul 7 Sacramento, CA ARCO Arena
Jul 8 Concord, CA Concord Pavilion
Jul 10 Portland OR, Showplace at Portland Meadows
Jul 11 Seattle, WA Mercer Arena
Jul 12 Boise, ID Sandy Point Beach
Jul 16 Minneapolis, MN The Hennepin Ave.
Jul 17 Cadott, WI Rock Fest '99 On Sale Now
Jul 30 Minnedosa, MB Festival Grds Classic Rock Weekend
Jul 31 Nisku, AB Rockfest 99
Aug 12 Manchester, TN Itchycoo Park
Aug 13 Wichita, KS KICT Radio Event
Aug 14 Omaha, NE Levi_Center Park/Z-92
For more info on the Red Rocker and lots more photos of Sammy check out: