Paul Rodgers Simon Kirke Mick Ralphs Boz Burrell
Return with ANTHOLOGY and they hit the stage for the first time in almost 20 years
In fine form the Original Bad Company hit the stage running for two nights at Clearwater, Florida's, Ruth Eckerd Hall on May 15th & 16th. Playing in front of 4,400 enthusiastic fans, what a great way to start off the Original Anthology Summer 1999 Tour. The crowd didn't want to sit down from the opening notes of "Moving On" to the last notes of the recently penned "Hey Hey" and two other newly crafted songs from ANTHOLOGY . For over an hour and a half Paul Rodgers and company belted hit after hit and bringing back many, many memories galore.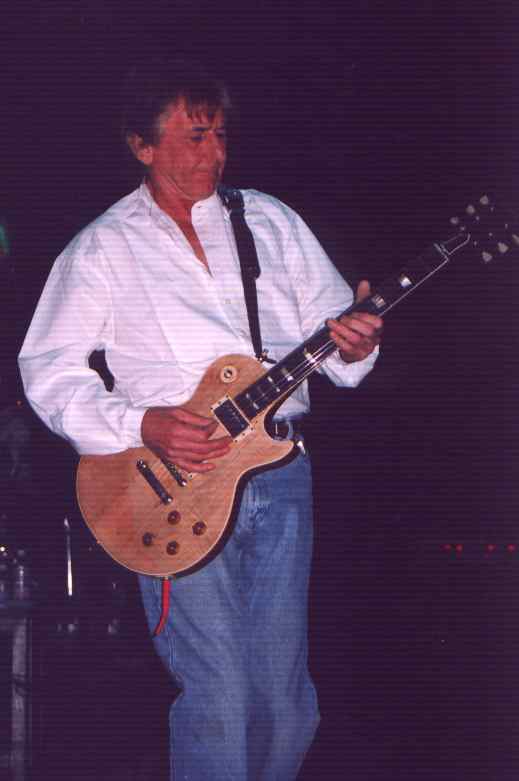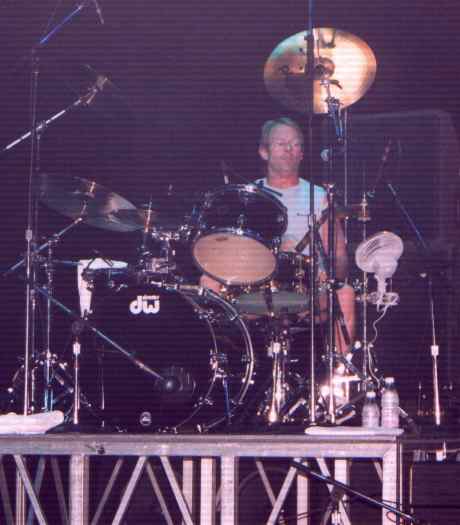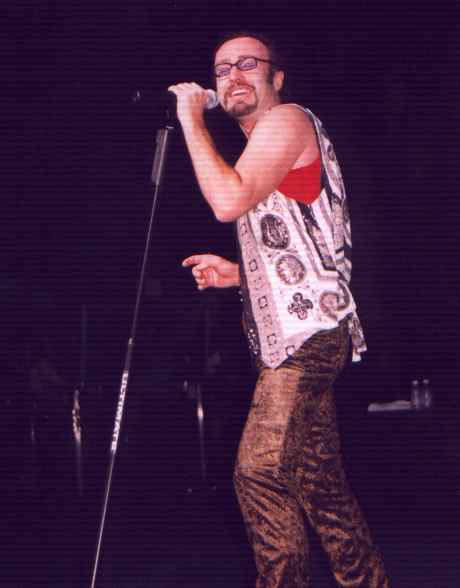 Boz Burrell on bass w/ Lead Guitarist Mick Ralphs Drummer Simon Kirke The Original Voice of Bad Co
Paul Rodgers Paul Rodgers

What a diverse crowd, fans who seem to know every word to almost every song and their kids and even a new genertaion of Bad Co fans are scooping up tickets as fast as they can get them. These first two shows only warmed up the band for a spectacular pay for view a week later on May 21st at Universal Studios Escape Orlando's newly redesigned Hard Rock Live.. The pay for view included the guitar talents on Pat Travers and Rick Derringer. Whether you saw it on Pay for View or saw it live or on television it was one night or nights to remember.

With songs like "Moving On," "Bad Company," "Seagull," "Shooting Star," "Rock and Roll Fantasy," "Can't Get Enough," "Feel Like Making Love," and "Run With The Pack" to name a few. This show was short but sweet. An hour and a half wasn't near enough. Fans clammered for more when it was over. Granted the Bad Co guys could have played longer or had more special effects, but Paul Rodgers, Simon Kirke, Boz Burrell, and Mick Ralphs let the music speak for its self. No one seemed to mind they didn't play anything from the middle years when they had that other singer, because it seemed that in the minds of everyone in attendance those three nights knew only one thing and that is "PAUL ROGERS IS THE VOICE OF THE ORIGINAL BAD COMPANY."

Myself and a few others I talked to that second night said they would definately spend forty dollars to relive a part of Rock and Roll History and early 20's and late teens memories. A word of advice from many experienced Rock and Roll fans and critics, please don't start off like a speeding locamotive and end like a dying flower. You opened the gated with a bang and ended with a couple of songs that no one knew.

Overall this was three incredible nights of solid in your face classic rock and roll. After all Rock and Roll is hear to stay, just look at what the Eagles and Fleetwood Mac did only 2-3 years ago. Every classic rock act that can still get up there in front of their many fans seems to be giving it a whirl. Rumor even has it that Crosby, Stills, Nash and Young will be on the road sometime this Summer. Don't forget to look out for the "BOSS" Bruce Springsteen. Rumor has it that he has recently sold out 14 shows at New Jersy's Continental Airlines Arena (o.k. so it's still the Medowlands to most of you.) Be sure to look for highlights from World Wide Live's Assistant Editor Greg Manes' full report on THE BOSS from Earls Court Arena in London.

Check em' out when Bad Company comes to a city near you. You won't be dissapointed!!!

Date City State Venue

05/21/99 Orlando FL Hard Rock Live
06/23/99 Winston-Salem NC Lawrence Joel Complex
06/24/99 Washington DC MCI Center
06/26/99 State College PA Bryce Jordan Center
06/27/99 Atlantic City NJ Trump Marina
06/30/99 Mansfield MA Tweeter Center For The Perf. Arts
07/01/99 Bethlehem PA Stabler Arena
07/03/99 Philadelphia PA Mann Music Center
07/04/99 Darien Center NY Darien Lake P.A.C.
07/06/99 Scranton PA Montage Mountain
07/08/99 Tinley Park IL New World Music Theatre
07/09/99 Detroit MI Joe Louis Arena
07/10/99 East Troy WI Alpine Valley Music Th.
07/13/99 St. Louis MO Kiel Center
07/14/99 Indianapolis IN Market Square Arena
07/15/99 Greenville SC Bi-Lo Center
07/17/99 Dallas TX Reunion Arena
07/18/99 Toledo OH River Park
07/20/99 Englewood CO Fiddler's Green Amph.
07/22/99 Missoula MT Caras Park Pavilion
07/24/99 Spokane WA Spokane Arena
07/25/99 Boise ID Pavilion At Boise State
07/28/99 Portland OR Rose Garden Arena
07/30/99 Reno NV Lawlor Events Center
07/31/99 Las Vegas NV Hard Rock Hotel - The Joint
08/01/99 San Diego CA SDSU Open Air Theatre
08/03/99 San Jose CA San Jose Arena
08/04/99 Sacramento CA ARCO Arena
08/06/99 Salt Lake City UT Delta Center
08/07/99 Phoenix AZ Blockbuster Desert Sky Pavilion
08/08/99 Los Angeles CA Greek Theatre

Find more information on Original Bad Company.
Bryan Lambert
World Wide Live - Editor
Photos (c) 1999 AUDIOFILES
No part may be used without written consent on the publisher.